Benign Prostatic Hyperplasia (BPH)
Male Bladder Control Problems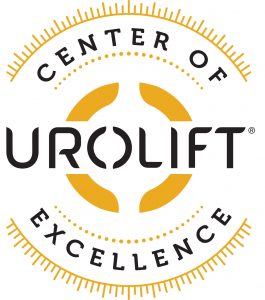 Dr. Lin has been recognized as a
UroLift™ Center of Excellence
physician by NeoTract. This is a prestigious distinction given to less than 25 urologists (as of 9/2017) in the U.S., where there are approximately 11,000 urologists. This distinction is awarded to practices that provide excellent patient experience and outcomes in the treatment of BPH using the UroLift™ System.
Watch Testimonials of UroLift™ Patients
The UroLift™ System procedure for BPH is minimally invasive, requires NO catheter for most patients, causes no retrograde ejaculation ("dry orgasms") or erectile dysfunction, and is performed in the office.
The traditional "roto rooter" (TURP) is enhanced and made safer using the latest and safest technology currently available (plasma bipolar resection).
We offer
minimally invasive, in-office treatment

to manage your urinary difficulties.
Additional Resources: